Regional flags and emblems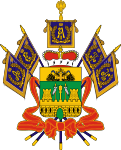 PROFILE
Established 13 September 1937
Capital Krasnodar
The Krasnodar Territory is part of the Southern Federal District
Area 75,500 sq km
Population 5818,400 (2023)
Ethnic groups
(2010 National Census, %)
Russian – 88.25
Armenian – 5.5
Ukrainian – 1.63
Other – 4.62
Administrative divisions (2023)
Municipal districts – 37
City districts – 8
Rural towns – 30
Rural districts – 351
Geography and climate
The Krasnodar Territory is located in the western highland part of the Big Caucasus and the Kuban Azov Lowland. The territory stretches for 372 km from the north to the south and for 380 km from the west to the east. There are over 500 rivers in the territory, as well as water reservoirs (Krasnodar, Kryukovskoye and Varnavinskoye) and many small karst lakes. The coast is lined with shallow delta-shaped estuaries. The major local river is the Kuban. The territory borders on the Karachayevo-Circassian Republic, the Stavropol Territory and the Rostov Region. The Krasnodar Territory is divided from the Republic of Crimea by the Kerch Strait, and shares a state border with Abkhazia.
The climate ranges from temperate continental to subtropical. January temperatures average 1.2°C, July temperatures average 23.3°C. Mean precipitation in January is 100 mm; mean precipitation in July is 44 mm. Local vegetation includes broadleaved (oak, beech) and coniferous (spruce, fir) forests, subalpine and alpine meadows. Black soils and meadows prevail in the flatland, while mountain, forest and meadow soil as well as grey and brown forest soils, sod and calcareous soils, and brown soils prevail in the mountains.
The territory is home to the Caucasus Biosphere Reserve, Sochi National Park, the Utrish Nature Reserve, and the Tamano-Zaporozhsky Wildlife Sanctuary.
Government
The legislative branch is represented by the Krasnodar Territory Legislative Assembly, which is the permanent body of representative and only body of legislative authority in the territory. The Legislative Assembly has 70 deputies, with 45 elected based on the simple majority voting system in single-mandate constituencies (one deputy per constituency) and the other 25 in the single electoral district under the proportional representation system. The current Legislative Assembly was elected in September 2022. Its term expires in September 2027.
The executive branch is the Krasnodar Territory Administration, the supreme executive authority, as well as other bodies of executive authority.
The Governor of the Krasnodar Territory is the territory's highest-ranking official, heads the executive branch and directly heads the Administration of the Krasnodar Territory. He is elected for five years by Russian citizens who permanently reside in the region. The term of office of the current incumbent expires in September 2025.
Economy and natural resources
The territory's economy is based on traditional sectors, such as recreation and resorts, transit, fuel and energy, and agriculture.
Local industrial infrastructure is characterised by a high density of enterprises in several major cities and districts. They are Krasnodar, Novorossiysk, Armavir, Tuapse, Tikhoretsk, Belorechensk, Kropotkin, Yeisk, Goryachy Klyuch, as well as the Mostovsky, Seversky and Apsheronsky districts. Food production companies can be found in almost every municipal district.
Food production accounts for the largest share in the territory's industrial composition at 45%. The Krasnodar Territory produces over one-third of Russia's sugar, vegetable oil, fruit and vegetable preserves, around 40% of concentrated fruit juices, 100% of meat baby food, 6% of cheese, meat and meat products, as well as preserved dairy products. More than 1,000 companies operate in the industry.
Production is on the rise due to the growth of gross harvests and volumes of animal products, as well as import substitution. Expanding the range of goods and promoting domestic food products among the public have contributed greatly to this achievement.
The territory has three major meat companies responsible for over 50% of meat products on the market. Tikhoretsky is the country's only company producing canned meat for babies. The Sochinsky and Krasnodarsky companies are major sausage producers. The leading dairy producers include Timashevsky Dairy Company, Kaloriya, Syrodel, Bryukhovetsky Dairy and Canned Food Company and Korenovsky Dairy and Canned Food Company.
The local fishing industry has a significant development potential. There are currently over 100 companies of different ownership types employing over 10,000 people. The fishing fleet comprises Novorossiyskrybprom, Krasnodarryba and 15 private companies fishing in world oceans, the Sea of Azov and the Black Sea. The conditions are suitable for fish farming. Over three billion pike perch and roach fry and 17 million sturgeon fry are released in the water every year.
Mechanical engineering and metal processing are represented by over 100 large and medium-sized enterprises as well as small businesses of the railway, agricultural, chemical and petroleum engineering, electrotechnical and machine-building industries, maintenance and repair companies. Combined they employ over 35,000 people.
The Krasnodar Territory's chemical and petrochemical industry consists of 13 large and medium-sized companies that produce mineral fertilisers, sulfuric acid, plastic products, glass-fibre products, paints and varnishes, industrial rubber and resin. There are also small private companies. The industry employs more than 6,000 people.
The Krasnodar Territory has a developed timber, pulp and paper industry. A quarter of the area is forests, which accounts for more than 1.5 million hectares of the national forest reserves. Kuban is the only place in Russia where there is industrial oak and beech felling. The region also produces valuable timber of fir, hornbeam, ash, chestnut and other species that grow in submontane and mountainous areas. The timber and wood processing industries revolve around state-run forestry organisations and more than 350 companies of different ownership types that deal with felling and advanced wood processing as well as furniture manufacturing.
Among the successful representatives of the garment industry is the Slavyanskaya garment factory. It is a unique company in Russia that produces special protective clothing for all sectors of the national economy, including skin protection items and clothing for miners, fishermen, hunters and tourists.
Culture and tourism
The Krasnodar Territory is rightly recognised as one of Russia's major cultural centres. This remarkable and distinctive region is enriched by an invaluable historical and cultural heritage. Local museums are home to unique collections of historical treasures that have been loaned out for Russian and international exhibition projects. Around two million people visit state and municipal museums in the Krasnodar Territory every year.
Ataman Ethnographic Village, an open-air museum, is a true treasure chest of traditional Cossack culture. Dozens of folk festivals, exhibitions and workshops on numerous crafts take place there between May and November.
The territory has maintained and expanded a diverse network of over 3,500 cultural organisations. In addition to museums, it includes libraries, cultural and recreational facilities, parks, theatres, concert venues, indoor and open-air cinemas, educational institutions, cultural and art facilities.
The vibrant cultural scene includes various campaigns, forums and festivals, the number of which reaches 300 to 400 per year. The most popular include Moscow Arts Theater in Kuban, Kuban Musical Spring, Golden Apple, Kinotavr, Kinoshok, Days of Slavic Writing, Kuban Cossack, Kuban Is My Childhood Home, Glorious Kuban Glorious Russia, and others. International festivals such as World Youth Ballet, Opera Without Borders and GG Jazz are hugely popular with audiences.
The Krasnodar Territory is well known for its Black Sea resorts and beaches stretching for hundreds of kilometres. It is also a good place to mix recreation with spa treatment thanks to the abundance of mineral waters (Matsesta) and muds. Anapa, a favourite destination for family holidays, is a climate and balneology resort of federal importance and one of Russia's top three resorts. Spa and health centres, children's camps and plenty of private hotels offer high quality service. There are abundant options to choose from.
Nowhere else in Russia will you find the kinds of recreation and spa opportunities that you will find in Sochi, especially in terms of climate and nature. The thin strip of Sochi resort beach stretches for 150 km along the Black Sea shore. The Yew and Boxtree Grove, a unique nature reserve in the Russian Black Sea area, is located there. Deep inside the nature reserve one can find ruins of an 11th−12th century fort. There is also the Western Caucasus Flora and Fauna Museum at the grove entrance.
Vorontsovskaya caves are popular with spelunkers. One of Russia's deepest karst caves at 500 m, Nazarovskaya Cave, is located near the upper Khosta River.
The Krasnodar Territory is known for its resort cities, including Gelendzhik, Novorossiysk, Goryachy Klyuch, Yeisk, Tuapse, Temryuk, and others.